A decade ago, the concept of meeting your partner on a dating app probably seemed a little far-fetched. Now, not only are dating apps mainstream, but countless couples report meeting their significant others on them. 
If you're new to the dating app world, it can be overwhelming and even a little scary, despite how often people use them. 
From checking the background of potential dates to making sure you aren't being catfished, there's a lot to consider. 
The following is a guide to dating apps, how they work, and which ones are most popular.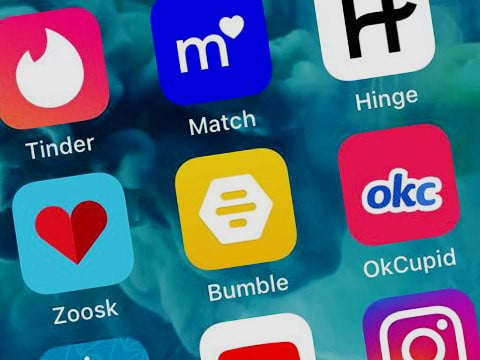 The Basics
Dating apps, like most things these days, use algorithms to match people using their data and personal information, app activity, and the preferences you set. 
The algorithms aren't always as effective as they could be because predicting chemistry or a romantic connection can be tough. 
Online dating has pros and cons, which we can say for anything. 
A pro is that around 40% of Americans say they've tried online dating. Tinder has 50 million users. Ten million of those are active on a daily basis. Those figures alone show you could potentially meet your match simply because you have such a wide pool of people. 
Dating apps do match you based on compatibility and personality, so you can avoid people who might be the absolute wrong fit for you. It's convenient and saves you time when you're already busy. 
You have the opportunity to meet people through these apps that you would have never otherwise crossed paths with in your daily life, and at least one in five relationships are estimated to start online. 
So what about the downsides?
Online dating is a crowded, exhausting world. When you have so many people literally at your fingertips, narrowing them down is tough, and it can get overwhelming. If you're using more than one app, it can quickly start to feel like you're juggling a whole other job. 
Another downside is that people lie on their profiles. Men, according to reports, are more likely to lie about their age, income, and height. Women are most likely to lie about their weight, age, and physical build. 
When you start a relationship based on online communication, you don't have the ability to assess those things that contribute to physical attraction. 
Below, we break down how some of the more popular dating apps work as far as their algorithms. 
The Algorithms
You have to look at dating apps as what they are, which are search tools. The following are more details about the algorithms they use and how they work. 
Tinder has 75 million monthly active users, and the algorithm was at one time based on the Elo rating system. The Elo rating system was used to rank chess players. The Elo score was used to determine how other profiles were interacting with yours. Now, Tinder doesn't use the Elo score anymore. Instead, Tinder encourages users to interact with the app as much as possible, so it can collect data on you and refine your matches. Being active on the app is the single biggest factor in who shows up on what's called your stack. Every time your profile gets a "Like," or "Nope," there will be an adjustment. 
Bumble works in a similar way to Tinder because they're both swipe models. The difference with Bumble is that only women can message first. If no one messages within 24 hours, the matches disappear. Bumble is notoriously secretive about its algorithm to match users. The only statement Bumble's officially made is that anyone users see there has been active in the last 30 days, so you aren't matching with inactive accounts. 
Hinge is a dating app that doesn't use swiping. Hinge uses the Gale-Shapley algorithm, which won a Nobel prize. The algorithm isn't only about the profiles you swipe on. It's also based on how potential matches interact with your profile. The more you engage with profiles on the app, the more its algorithm starts to "understand" who you might match well with. 
OkCupid is a dating site that has extensive profile-creating options so you can get as personal as you want. OkCupid uses a match percentage with other users to predict compatibility. 
Grindr uses AI and automated decision-making to get rid of spam accounts, but not for matching. The primary way Grindr matches users is through preference filters and location. 
Happn is an interesting take on dating apps. This app is to help people connect who may have made contact with each other in passing. You stay on the app all the time, and then if someone catches your eye, you're supposed to check the app to see if they're also on it. You can then create a digital conversation rather than an awkward in-person one. 
Lumen is a dating app specifically for people over 50, whereas apps like Bumble and Hinge target the 18-to-35 demographic. 
General Online Dating Tips
Some people who are new to online dating can feel overwhelmed, and other people can get excited by the sheer number of options out there. Try to avoid both situations. Some best practices when you're using dating apps include:
Focus on quality instead of quantity. Don't go into using dating apps thinking about getting as many matches as possible. You also have to keep in mind that left swipes or experiences that are less than ideal are part of getting closer to someone you do connect with not only on an app but in real life. 
A lot of people will go to dating apps to play the field, and they're not serious about getting into a relationship. Don't get too attached until you meet in person. 
You're going to face a lot of bad sides to online dating when you use apps. You'll get ghosted, you'll get offensive messages, and you might get unwanted pictures. You'll also connect with people who are normal and sincere. 
There's always a chance that someone is going to say they're something they're not. Almost everyone on apps is lying about something. If you're lucky, it's something small, and it's not a huge deal. If you're not lucky, it could be something major. Prepare yourself either way. 
If you want to match with someone who could potentially be a long-term partner for you, you need to use the dating app you decide on. You need to keep your profile updated, look at your matches and send messages. This is how the app is going to figure out who might be best for you. 
What About Safety?
In some ways, dating on apps is the same as dating the old-fashioned way as far as safety goes. For example, don't give someone your address or have them to your home right away. Meet in a public place, and maybe even in a group at first. 
You should do some online research before you meet anyone from an app, too, to see if what they're telling you checks out. 
Increasingly, dating apps are adding safety features. 
For example, if you use Facebook Dating, there's a big emphasis on user safety. If you accept a date on Facebook Dating, you can automatically open your messenger account from the app and then let a friend know the date and time of your date. 
The app then sends a notification to the friend you choose 15 minutes before the start of your date. It will share your location for up to an hour, all with the goal of making sure someone knows where you are when you go out with a person. 
On Hinge, the focus is finding matches who might already be somewhere within your social network, even if you don't know them. 
That gives you the opportunity to ask a friend or family member about the person if they know them.
The Hinge app also gives you the option to get personal information on possible dates before deciding to meet them. 
When you're using the app's free version, there's a limit, so you can like profiles only ten times in 24 hours. To match with more profiles, you have to pay for an account. 
A couple of years ago, Tinder offered new safety features. Tinder announced it would be adding photo verification, an offensive message feature, and a panic button. 
To access the Tinder Safety Center, app users have to download the Noonlight app and enable location tracking. The actual panic button is actually located within the Noonlight app rather than the Tinder app. 
If you find yourself in a dangerous situation, you press and hold the panic button. The Noonlight dispatchers send a text with a code, and then they call. If their call goes unanswered, they alert emergency services. 
Finally, Tinder also said with its addition of photo verification, the hope is to cut down on catfishing. Users receive a blue checkmark verifying their profile when they take photos that match a series of provided sample poses. The Tinder community then compares the submitted photos to the photos uploaded to the app to make sure there's consistency.