A few years ago, when digital cameras were the common way to record video and not smartphones like today, many of us would choose to transfer recorded video to DVD to keep it playing anywhere for longer. However, as digital cameras for recording videos and taking pictures fade away and are replaced by smartphones, many users no longer continue to convert recordings to DVDs, instead storing them only on hard drives and cloud services. 
Chances are you already own a collection of DVD movies and you also have a collection of old DVD-formatted videos that carry your precious memories. However, the DVD format is going to leave us after all. Therefore, it is highly recommended to convert DVD to digital files for easy preservation. 
WonderFox DVD Ripper Pro is one of the best programs on the software market for converting DVD to MP4, and there are other programs that offer similar services, but the efficiency and versatility it offers us is unmatched by other tools. If you want to know more about this software, we invite you to read on.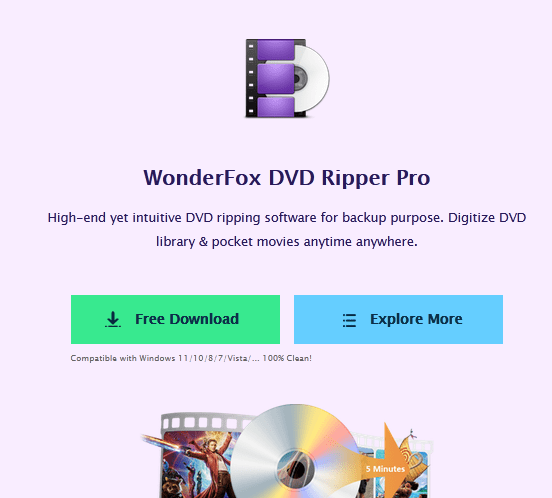 Why should we convert DVD to MP4?
Finding DVD titles in stores is increasingly difficult, and over time it can become a luxury. Moreover, reading units in this format have also become scarce products. What's more, physical discs are highly susceptible to damage, rendering the contents irrecoverable. Converting our content to a digital format allows us to keep at hand and have multiple copies of the same content so we can store them separately on hard drives, shared drives, cloud services, etc.
Why is it your best choice on ripping DVD?
WonderFox DVD Ripper Pro works well with all DVDs and allows us to read wrong DVD files. Best of all, it doesn't have any quality loss. In addition to ripping DVDs, you can also perform basic editing on DVD files.
WonderFox DVD Ripper Pro Giveaway
You can see from the official website that its price starts at $29.95, and luckily the software vendor is offering a completely free version to our readers. You can find its download address and registration code from the offer page to install it on your PC. Take action, it will be valid until June 30th.
How to convert DVD to MP4 with WonderFox DVD Ripper Pro?
Step 1: The first thing we have to do is insert the DVD that needs to be ripped into the computer's reader unit, and the software will automatically read the content and find the main titles.
Step 2: Click the "Output Format" panel to find "MP4" under the "Video" tab.
Step 3: Once you have selected the format we want, click the "Run" button and wait for the ripping process to complete. 
More features of WonderFox DVD Ripper Pro
Intelligently find main movie from 99 titles.
Add subtitles to DVD.
Rip DVD to digital devices, such as phones, TVs, laptops, desktops, tablets, handsets, etc.
Rip DVD Disc to ISO Image and DVD Folder.
Edit DVD files with ease, clip, crop, cut, add effects, merge, watermark, trim, rotate, etc.
Extract audio from DVD movies.
Rip old and scratched DVDs to digital copies.
Final words
Collecting DVDs is a cherished hobby, but the development of digital video is a shock to DVD lovers and brings more opportunities. With a DVD ripping tool, DVD discs will not be threatened by scratches, breaks, aging and other issues. After digitizing, you can watch your DVD movies anytime, anywhere. If you are confused about which DVD ripper to choose, you can try WonderFox DVD Ripper Pro, it supports you to rip DVD to MP4 quickly and without any quality loss.